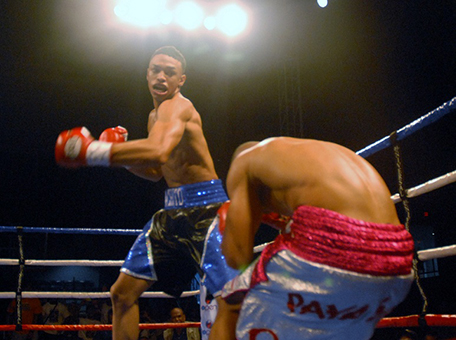 JORGE MAYSONET JR.
REMAINS UNDEFEATED WITH
FIRST-ROUND DESTRUCTION
"Night of Champions" Results
October 26th, 2012
Dr Roque Nido Stella Coliseum, Guayama, Puerto Rico
In the feature bout of the evening, scheduled for eight rounds in the lightweight division, Jorge "Machito" Maysonet Jr., (10-0, 9 KOs) demolished Ramesis Gil (8-5-5, 5 KOs) by way of a first round KO.
From the beginning of the fight, Maysonet came out very aggressive, connecting with left and right hooks to the face and body of Gil, who went down on three occasions. The referee seen that Gil was unstable to continue and the fight was halted at the 1:23 mark.
Maysonet has recorded multiple first round knockouts and many critics are saying he could be the next super-star to come out of Puerto Rico.
"Earlier this year, Ramesis was victorious against very good unbeaten fighters, but he had never faced someone like me as you can see by the results," said Maysonet who is promoted by Warriors Boxing, Universal Promotions and Gary Shaw Productions.
"Tonight's knockout victory shows my talent is for real and my goal is to bring excitement to my fans in Puerto Rico. The entire lightweight division better take notice because I'm coming to conquer."