CHAMPION MOLINA STAYING ACTIVE IN CHICAGO COMMUNITY WHILE WAITING FOR NEXT BIG FIGHT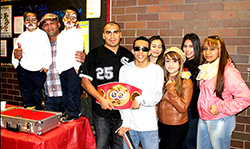 IBF Junior Middleweight Champion "King" Carlos Molina is making good on his promise to be a "people's champion", as he continues to interact with the public in his beloved Chicago while waiting for his next big fight.

Last Friday at Curie High School on Chicago's Southwest side, Molina and WBA # 6 heavyweight "Fast" Fres Oquendo were guests of honor at Curie's annual Community Fall Festival. The pair signed autographs, posed for photos and spoke to young people about the importance of hard work.
"This is an amazing event, and it feels really good to give back to my neighborhood. I am grateful for the invite," said Molina, who was raised and still lives minutes from Curie.
Meanwhile, Molina (22-5-2, 6 KOs) has been staying active in the gym while fielding offers and challenges from a variety of big names including former champs "Sugar" Shane Mosley and Saul "Canelo" Alvarez, as well as recent title winner Demetrius Andrade.
"I don't care who it is," said Molina. "I know everybody says that, but I mean it. I would like to bring boxing back to how it was in the old days with guys fighting all the time. Fighters fight and that's what I want to do. I'm ready to go."
Molina, a true Cinderella story in boxing, says he'd rather be a champion who defends his belt with regularity than a PPV star fighting once yearly.
"I want to be an old-school champion. I'll fight anybody. I want to be recognized as the best in my division and I feel like I am ready to go out and get victories over the top guys and unify the belts. If Mosley or Alvarez or Andrade want to be next, I'll be ready."
Molina's advisor, Luis DeCubas, says it really doesn't matter who the opponent is for his guy. "Carlos is old-fashioned that way. He'll be ready to go, no matter the date and they can put any junior middleweight in the world in front of him."