PRESCOTT: I'LL STEP IN TO FACE ORTIZ!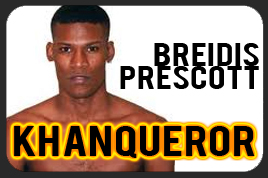 Colombian slugger Breidis "The Khanqueror" Prescott (25-4, 20 KOs) says he'll gladly step in and rumble with Victor Ortiz, now that Ortiz is in search of a substitute opponent on June 23 at Staples Center in Los Angeles.
Known as a strong, all-action puncher at light welterweight, Prescott says he'd have no trouble stepping up in weight to face Ortiz. "I'm ready to go, let's do it! If they want an exciting fight to take the place of his cancelled rematch with Andre Berto, look no further. I'll be there to drop bombs on June 23."
Leon Margules, promoter of the 29-year-old Prescott, says his fighter has the size and power to move up a weight class and still deliver one of his trademark thrilling performances. "He's 5′ 11″ with a long reach. Breidis has the size to be just as effective at welterweight. And let's face it, he's never been in a bad fight in his life. If Golden Boy is looking for someone to step in and bring the fireworks, Breidis is their man."
Prescott suffered a loss in November of last year against top contender Mike Alvarado, but has since rebounded with a quick knockout of Joel Cassiani.
"Breidis was beating Alvarado badly, but Alvarado came into the ring weighing about 180 lbs. My guy has to drain weight to get down to 140 and eventually Alvarado's size in the ring wore him down. It was still a thrilling fight. Breidis is never in a bad fight, he's always ready to trade leather with anyone. I think he's a perfect choice."