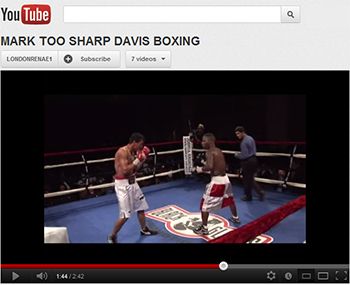 WARRIORS, BLUEWAVE, AND NEWHOUSE SIGN
MARK "TOO SHARP" DAVIS!
Warriors Boxing, Bluewave Boxing and Newhouse Promotions are proud to announce the signing of 2005 and 2006 United States Amateur Champion and undefeated super featherweight Mark "Too Sharp" Davis (16-0, 5 KOs) to an exclusive promotional agreement.
25-year-old Davis is originally from Baton Rouge, Louisiana, and now lives in Cleveland, Ohio. During his 200 amateur bouts, he competed at the 2005 World championships and won the Eastern Olympic trials for the 2008 Olympics. Davis also won gold medals at the 2002 US Junior Olympics, the 2002 US National Silver Gloves, and the 2002 Police Athletic League (PAL) tournament as a junior. He won a silver medal at the 2003 PAL and won a gold medal for the USA at the 2003 Under-19 Sweden Cup.
Lightning quick and masterful on defense, as a professional, Davis has already beaten some well-thought-of opposition, including Guillermo Sanchez (13-3) in his latest fight and Ramesis Gil (then 6-1) before that.
"We're all very excited to be working with Mark," said Leon Margules, President of Warriors Boxing. "He was a terrific amateur and he's proven to be a blue-chip prospect as a professional. I predict big things for him."
"He's a future world champion," said Bluewave's Luis DeCubas. "Mark is at a level of skill already that puts him in an elite class. It's going to be a pleasure to work with him and help get him where he wants to go in professional boxing."
Newhouse Promotions, a Cleveland-based company, is also very pleased with the signing: "I feel Mark is on track to become the best fighter in the world," said lifelong friend and Newhouse's Tim VanNewhouse. "Working with strategic men like Luis DeCubas and Leon Margules, I know he will get the opportunity to compete on some of the highest levels the sport can offer."